The following patterns have been collected from various sources.  Videos have also been included if you are a visual learner.  Please read the individual files for information on materials required or you can check out the Frequently Asked Questions page.
WRITTEN PATTERNS
Sewing
Joey/Wallaby Hanging Pouches
Wallaby Night Bag
Kangaroo Night Bag
Wildlife Victoria Joey Pouches instructions
Sewing Outer/Inner Pouches for joeys/possums (make sure to write the size in water proof marker on the pouch for easy identification, e.g. L for large, XXS for extra small)
Sizing information for Joey Pouches
Bat wraps with pillows (100% cotton or flannelette may be used for Victoria. Please DO NOT USE wadding for the pillows! Wadding is potentially fatal to the little bubs!)
Tip for stuffing bat wrap pillows: Make sure the pillow is stuffed firmly; think of one of those microwaveable rice pouches – they're firm but you can still squish the packet 🙂
This handy guide explains what fabric can be used for which item.
Knit
Pouches
Nests (see crochet nests for information on sizing. This handy guide shows you what yarn to use, hook/needle size, etc.)
Crochet
Nests (although this pattern is for a small nest, the main requirements are for larger nests – base measuring between 15cm to 20cm and the heights should be 1.25 larger than the base, e.g. 15cm base, height 18.75cm). This handy guide shows you what yarn to use, hook/needle size, etc. The photo below from one our regular contributors shows how you can easily check if the wall is the same height as the base. Her recommendation is to fold one side down and it should reach the other side easily; then add another couple of rows and you're done 🙂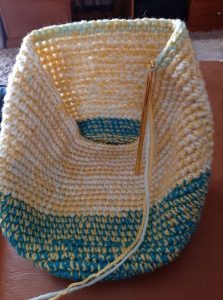 Videos
Joey/Possum Pouches (will need to make extra liners, as this video has the inner/outer pouch sewed together)
Pouches (this is an excellent video showing how to make a small pouch; just size up and use the same techniques for larger sizes)
Round up of sewing pouches/bags (this is a long one, about 50 minutes)